Quality Cost
Quality cost is the cost which the company uses to ensure that the product has met a certain quality standard. Business is very careful about its product quality because it will have a direct impact on their customers. We work very hard to acquire our customers, however, any small error in our quality will have a huge impact on the next purchase from our existing customers.
Quality cost is categorized into the chart below: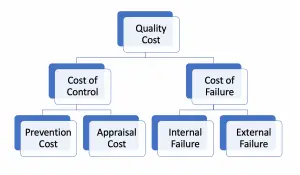 Cost of control
The cost of control or cost of conformance is the cost which the company spends to prevent any product quality failure.
Prevention Cost
Prevention cost is the cost that keeps any quality from happening. The company expects to increase this cost as it is easy to prevent the problem rather than fixing them. It is the cost that monitors all activities related to quality.
Example of prevention cost:
Staff training:
Product design flow
High-quality material
Equipment set up
Appraisal Cost
Appraisal cost is the cost spend on detecting, inspect and test the defective product.
Example of appraisal cost:
Raw material inspection
Testing
Quality check
Equipment check and testing
Cost of failure
The cost of failure is the cost that the company spends to fix the problem of product quality. It is the result which raises due to the ineffective cost of control.
Internal Failure
It is the cost that the company fixed the product while it found in the company.
Example of internal failure:
Cost of rework or redo the product
Cost of purchasing material (include any transportation cost if any)
Scrap
External Failure
It is the cost that arises from the defective products that have reached the customers.
Example of external failure:
The product return or recall
Cost of fixing product for the customer
Damage reputation
Analysis
The company should spend more on prevention and appraisal costs as it is the root of all quality issues. Increasing both prevention and appraisal costs will reduce the cost of failure. It is good to prevent the issue rather than solve them.