Materiality and Tolerable Misstatement
We often confuse tolerable misstatement with materiality or performance materiality in auditing. So, it is useful to note that tolerable misstatement is the performance materiality that applies to audit sampling.
However, performance materiality is not tolerable misstatement as the performance materiality is also used in other things such as when establishing an overall audit strategy in the planning stage of the audit.
Materiality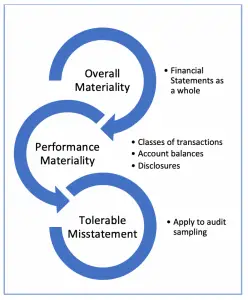 Materiality is the concept that expresses the matter is important, in which it can influence the economic decisions of the users of financial statements if misstated or omitted. That is why auditors have the responsibility to give reasonable assurance in detecting any material misstatement in the financial statements.
Usually, auditors view materiality as the threshold in determining what matters that they should focus on and what matters they could ignore. This is due to it's impossible or impractical to have auditors examine all transactions and balances in the client's records when performing their audit work.
In this case, auditors need to determine the materiality level in order to enable them to perform audit work in an efficient manner and still able to ensure that any significant issue will be detected.
In other words, with the proper level of materiality auditors can provide reasonable assurance that any misstatement, either due to error or fraud, that can affect the decision making of the users of financial statements will be detected.
In performing the audit, auditors usually determine two types of materiality, in which one is the materiality for the financial statements a whole, which is known as overall materiality. And another one is the materiality for particular classes of transactions, account balances, or disclosures, which is called performance materiality and is set at less than the overall materiality.
Tolerable Misstatement
Tolerable misstatement is defined by ISA 530 as below:

Also stated in ISA 530, tolerable misstatement is the application of performance materiality to a particular sampling procedure. In other words, tolerable misstatement is an example of performance materiality that auditors apply in the selection and evaluation of the result of the sampling.
Hence, auditors need to determine the tolerable misstatement when designing an audit sample for any particular account or balance. This is so that they can address the risks of material misstatement in financial statements that could occur due to the aggregation of individual misstatement.
In this case, the tolerable misstatement is always lower or equal to the actual performance materiality in the population of accounts or balances.
Usually, the level of assurance that the auditors require from the results of a sample will determine the amount of tolerable misstatement.
For example, auditors will set a low amount of tolerable misstatement if they require a high level of assurance from a sample. This will result in a larger sample size to be examined in the audit procedures.